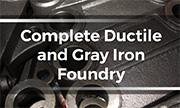 Complete Ductile and Gray Iron Foundry Closure
<!–– Start Date & Time --> <!–– End Date & Time --> <!–– Inspection -->
Inspection/ Preview:
Monday, May 13 from 8:00 AM to 4:00 PM ET or by special appointment
<!–– Auction Location Address -->
Sale Location:
205 Wabash Road,
North Manchester, IN 46962
<!–– Asset & Inspection Location --> <!–– Map --> <!–– Contact Info --> <!–– Buyer's Premium -->
Rigging Contact: TBD
TRUCKING CONTACTS
IMMEC Transport, Inc
6600 N Lincoln Ave, Ste 306
Lincolnwood, IL 60712
Contact: David Kim
Phone: 312-445-8795
Cell: 630-460-2848
Fax: 312-281-9123
david@immectransport.com
Removal details and deadlines to be provided shortly.
Contact Info: Jennifer Reiner
(847) 545-6374
jennifer@perfectionindustrial.com
A 16% buyer's premium will be charged on all assets purchased by buyers attending the sale in person, and any Webcast or Online Buyers will be charged an 18% buyer's premium. Acceptable forms of payment are cashier's check, company check (with bank letter of guarantee) or wire transfer within 48 hours of the sale close. For any Buyers failing to pay within the 48 hour stated payment period, the buyer's premium will be increased to 18% (bidders attending the Auction in person) or 21% (Webcast or Online Bidders). Everything will be sold to the highest bidder, in accordance with the Auctioneer's customary "Terms of Sale", copies of which will be posted on the premises of the sale and subject to additional terms announced the day of sale. All items are sold "As is, Where is" without any warranty, express or implied.
Proudly in conjunction with: